Check Out this trendy catch plate from Boon!!
Your house and child's clothes don't have to resemble feeding time at the zoo!!
Catch Plate's built-in food catcher extends toward your child, creating a ramp to catch runaway food!!
What they're eating ends up back into the plate, so there's less mess and waste!!
If purchase a Boon Modware Utensils, then can be positioned to accommodate any grip in any direction.
It can be adjusted to child's motor skill development.
Hooray for cleanliness!!
GRAB IT! DROP IT! CATCH IT! REPEAT!
This is your kids best ever helper when your kids miss their mouth!!
Boon Catch Plate catches the food so they can try again!!
Less mess means less stress and less waste!!
Your dining room floor would thank you if it could!!
Boon Catch Plate is:
Top rack dishwasher-safe!
Perfect for first-time eaters!
BpA-free, Phthalate-free!
PVC-free!
Colors Available: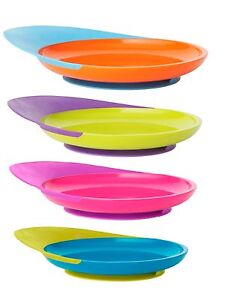 *Image is for illustration purpose only