Mommy and daddy, how particular are you with the kind of clothes you all put on your little ones?
Do you need them to be safe for sensitive or easily irritated skin?
Do you need them to be breathable in our humid climate?
Does it also need to be able to absorb moisture?
Litte Kiwi House wants to introduce you to Hamako.
Apparels and accessories from Hamako are made from Tencel Intimate (the most premium grade of Tencel available in the market). International brands like Triumph, Victoria's Secret and Wacoal are amongst many brands that use the same Tencel Intimate we are using in their range too. Fabrics don't get more luxurious than this.
What is Tencel Intimate?
Like Bamboo, Tencel is also made from a renewable resource. Tencel is made from plant material, specifically Beech Wood and Eucalyptus trees.
Tencel has anti-microbial properties and can resist dust mites and fungal growth.
Silky Soft + Strong + Safe on Sensitive or Easily Irritated Skin
Thanks to its natural structure, Tencel is super soft and smooth on the skin. The end product has a smoother surface that is not only comfortable but also safe to those with sensitive or easily irritated skin.
Tencel is also strong and durable which makes it easy to maintain.
Improved Breathability + Moisture-Wicking Properties
Tencel is an extremely breathable and absorbent fabric. It is ideal for warm sleepers as the Tencel fabric can wick excess moisture away quickly, keeping the body cool during sleep in a variety of climates.
Good moisture management also limits bacteria growth without the need for any chemical additives. Tencel is also hypoallergenic and biodegradable.
Less Wrinkling + Fading
Tencel is generally less prone to wrinkling and less vulnerable to fading with regular washing. It is also less likely to shrink and not prone thinning out over time.
Tencel is capable of keeping 85% of its dry tenacity under wet conditions, allowing the fibers to retain their shape. This makes Hamako Tencel Intimate Apparels and Accessories quick to dry and fairly easy to iron and care for.
Little Kiwi House sourced Hamako directly from the manufacturing factory in Indonesia (so you don't have to). This is how we keep prices affordable so you do not have to pick between paying more for comfort or less for affordability.
Hamako Baby Singlet + Shorts Set comes in different designs and in sizes.
Designs
1.) Charcoal
2.) Matryoshka / Striped Apricot
Sizes
1.) 6 - 9 months
2.) 9 - 12 months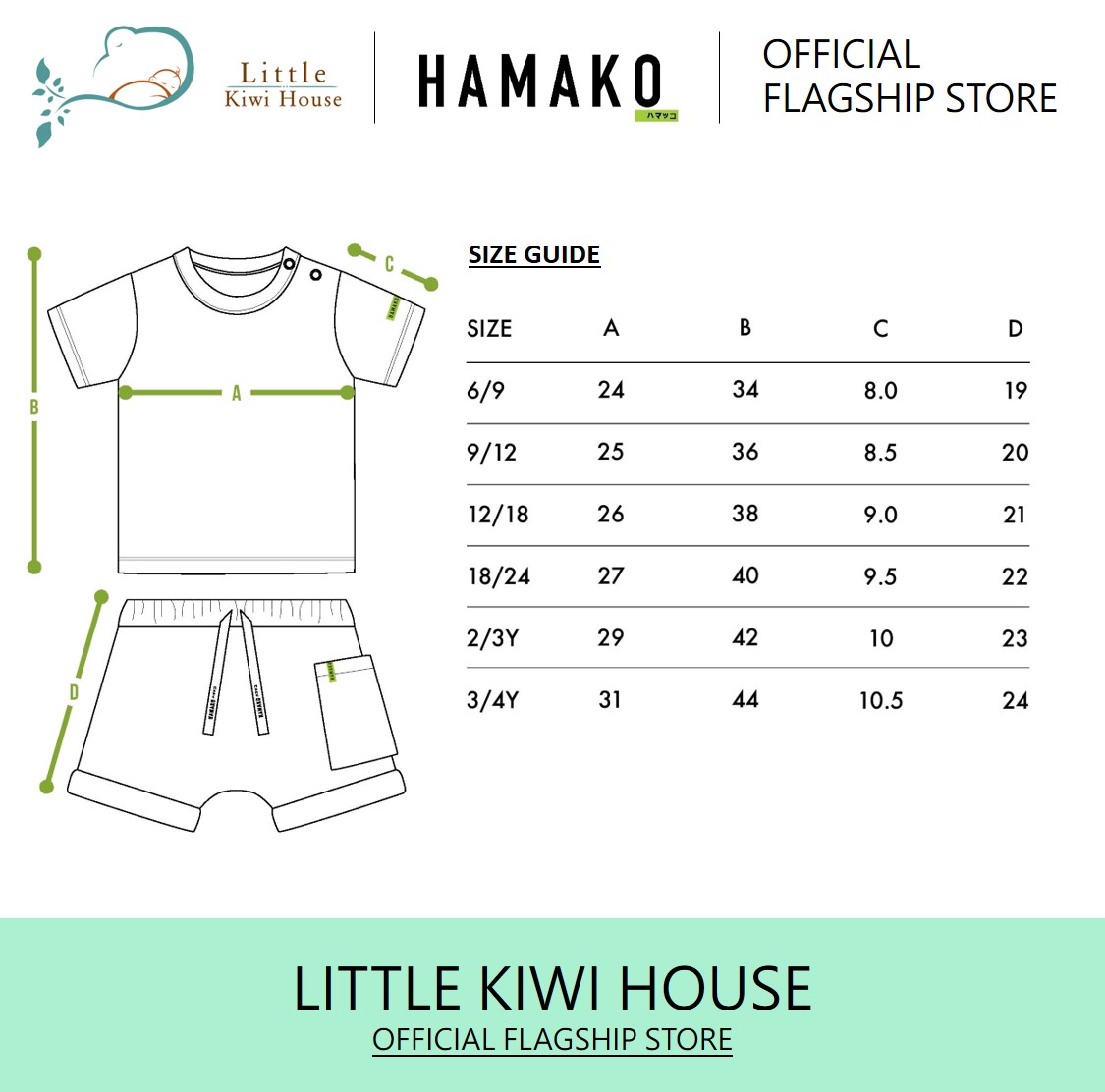 We understand the concerns about sizing. Please be rest assured that we will be able to exchange your piece with a different size should the sizing not fit your little one. Should your purchase not be what you expected, we will also be able to exchange your current piece with something of the same value with you.
We will, however, need the original hangtags still attached to the clothing and we will also need the original packaging back.
Hamako is solely distributed by Little Kiwi House.
Should you have any inquiries, please feel free to DM us on Instagram (@littlekiwihouse) or Facebook (Little Kiwi House), you may choose to write to us at [email protected] or just Whatsapp us at +65 9053 8838.
Thank you and happy shopping!